Where to put your Satellite Dish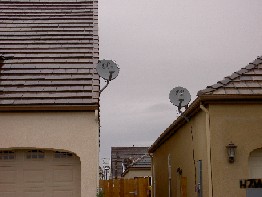 SATELLITE DISH PLACEMENT<!?xml:namespace prefix = o ns = "urn:schemas-microsoft-com:office:office" />
With everyone wanting the best reception for television there are a number of choices. The choice that this article discusses is your decision to purchase a satellite dish for this service to be placed on the exterior of your home.
Each association has their specific rules relating to the placement of these dishes. The most important rule is that the dish must first be approved in writing by the architectural committee of your association. There are no exceptions in most planned unit developments, condominium associations or any other kind of common interest project.
The architectural committee is going to be looking for primarily one item. The dish must be placed in the least visible location on your home, which is reasonably possible. Some associations may even expect these locations to be below the fence line. There is one provision that protects you and causes the conflict; you must still be able to get good reception.
The following are steps you should follow if you plan to install a satellite dish sometime. The emphasis is on plan, don't be an impulse buyer that allows the cable installer to determine the location the dish will be placed on your home. Many times the location the installer suggests is determined by how much cable he has left on his spool not the best location for you. Plan Ahead.
Step One
Have someone that knows about satellite dish instillation come to your home and using the criteria of least visible with best reception find the best location for the dish.
Step Two
Consult the architectural rules of your association for any specifics and make a simple drawing of your home with the location of the new dish and indicate that you have had someone with knowledge find this location and that it meets the two requirements (least visible with best reception).
Step Three
Submit the drawing with a request to your architectural committee and wait for a written approval before you begin work, the committee will respond as soon as reasonable and you will be set to go.
These three steps will save you and your association a lot of aggravation and frustration. Your neighbors will be happier and you will get great TV reception.
The following is for your information and is a summary of the law and is not meant to be taken inclusive of all aspects of the new legislation but merely to alert you to its existence.
(AB 104) Satellite Dish Antennas. This bill prohibits community associations and others with deed restrictions against satellite dishes from enforcing them strictly. Associations may still limit satellite dishes that are over 36 inches in diameter. The association may control placement and installation, and removal costs of 36-inch and smaller dish antennas. Maintenance of the affected portion of a commonly-owned structure may be at the expense of the antenna owner. Architectural standards still apply. Owners must have association approval for the installation but the association may not unduly delay approval and may set standards of installations. (Adds Civil Code section 1376)
Prepared by Pacific Central Management Corporation